We have £11,000 to spend to enhance the nature reserve. August 2021
We were one of the chosen Co-Create Projects for East Ham, so we have money to build a pond, add seats and create and improve habitats.
Tower Hamlets Cemetery Park is helping with planning the pond and technical advice, but the work will mainly be done by volunteers, so please come and help us. It will be a lot of work, but will bring in lots more animals, like dragonflies. There used to be a small pond at the nature reserve and people remember doing pond dipping. Our new pond will be bigger and will give a new generation of children the chance to try dipping for animals.
Seats will be metal, concreted in. with backs and arms. At the moment there are only a few wooden benches. The new seats will be easier for older, or less agile people to use. They can enjoy sitting by the pond or in our meadows. We will be planting more flowers to encourage bees and butterflies to visit.
Bioblitz at the Nature Reserve  28th October 2018
About 25 people came along to this event. Most were members of the Wren group, who are based around Wanstead Park. We walked round and identified plants and animals. Nick found 14 species of slugs and snails. Results will be available on the web site soon. Dennis gave the visitors a tour of the church and we all enjoyed tea and cake afterwards. We hope to repeat the event in the spring.
Art Trail at the nature reserve 27th and 29th July 2018
As part of the East Ham Art Festival, we are joining forces with Red Door Studios to set up an art trail. We are commissioning 3 artists to make works out of natural materials on the  theme of 'circles of life'. The trail through the nature reserve will encourage people to look around and search for the art works. At the same time they will notice the natural beauty of the woodland and meadows. Art works will remain in situ and gradually decay, becoming a different sort of trail with habitats for wildlife. We hope that people will visit again and see what happens.
Fallen oak
This oak tree was growing in about 3 inches (15cms) of earth on top of a grave. The strong winds in early May knocked it over. The whole slab of roots lifted and the top came down bloc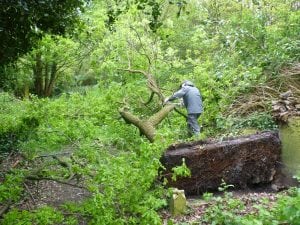 king the path. Our tree team of Peter, Kairen, Sam and Penny made short work of cutting of all the branches and stacking the wood as a dead hedge. We found that there was a root going into the ground behind the gravestone, so we lifted the root slab back into plac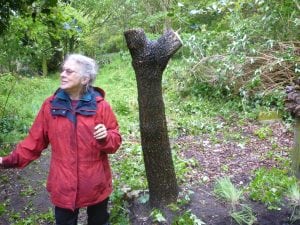 e and left just the trunk as a pollard. Now, at the end of May it is putting out new shoots.
School Visits
We are now working with Active Newham to promote the nature reserve. They are going to have many activity sessions for adults and children. As of Tuesday 28th November we will be having groups of schoolchildren visiting as part of their studies for Key Stage 2.
The grassy area alongside Norman Road is being transformed by groups of school children into a miniature nature reserve, with paths and different habitats. This will be used by children, especially young ones who can't walk all round the reserve.
New paths
If you visit the reserve you will find it much easier to walk round parts of it. Active Newham has organised armies of corporate volunteers, mostly from the Financial Conduct Authority, to lay new paths. They are made of crushed concrete from demolished buildings. It is very hard work barrowing the material then raking and treading, but results in a dry path that is solid enough for wheelchairs and pushchairs. We are very pleased with the paths, which will save an enormous amount of time in path clearing. They also look very good and blend in as if they have always been there.
Reptile Survey
We have started a survey of the common lizards and slow worms at the nature reserve. Results so far are very exciting. We are an exceptional site for slow worms, according to the Frog Life criteria. As of 22nd August, we are a good site for common lizards. This makes us a Key Reptile Site because we have populations of 2 species of reptiles.
We are making log piles in the grassland areas to attract the common lizards and make it easier to see them. Look out for them also basking on the new paths.
You may find pieces of roofing felt, metal and carpet as you go round the site. These are refugia to attract reptiles, particularly the slow worms, which hide under them. The common lizards are mainly found on the ant hills or on top of the roofing felt. Please do not move the refugia. If you look under them, please put them back carefully.
Good news from Active Newham
Active Newham are now in charge of the nature reserve for a three year term, instead of the old system of three months at a time. This should make it easier to plan in the longer term. They are looking to get money from the airport and are proposing to do a survey of the flora and fauna of the site.
Mushrooms
We have some lovely mushrooms growing at the nature reserve.  (September 2016) They are called the verdigris fungus because they are the same colour as verdigris on copper roofs.
Hedge-laying article
Peter has written a very interesting article for the Wren Group newsletter. If you would like to read it, you can download it here Hedge layingV2
Grant from the Wren Group
The Wren Group, who are based in Wanstead Park have kindly voted to give us £300 to use for tools and equipment.
Wildflower seeds
We have planted wildflower seed in an area of Cricket Meadow. They were supplied free by Kew, as part of their Grow Wild initiative. Go to www.growwilduk.com for more information.
Nature Trail
As you walk round the site you may have noticed wooden posts with numbers on them. These were a nature trail when the Nature Reserve was actively used. We are going to rewrite the leaflet and update the trail, so schools and other visitors can use it.