Welcome to Newham Green Gym, the East Ham Nature Reserve Conservation Volunteers
An independent community group, which is a member of the TCV Community
Network, but is not run by TCV leaders.
Please note that there is a second Newham Green Gym, which is the Greenway Orchard Project, run by trained TCV leaders. They focus particularly on mental health issues. For information go to http://www.tcv.org.uk/london/green-gym-london/newham-green-gym
Norman Road has become a controlled parking zone. Parking, paid by phone, is only available for up to  2 hours. There is a disabled space, where blue badge holders can park for 3 hours. You can park free for 4 hours in Sainsbury's car park at Beckton.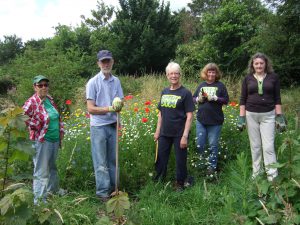 If sweaty gyms are not for you, why not join our friendly group to exercise in the open air, giving nature a helping hand at the same time? We work to maintain the diversity of habitats at the nature reserve. We do a variety of tasks from cutting trees and digging out brambles to clearing ivy from gravestones and paths. We also do more specialised tasks like hedge laying (read Peter's article in latest news). There is something suitable for everyone and you can work at your own pace.
We meet every Wednesday 10am-1pm and the last Saturday of each month 10am-1pm. The next Saturday work session will be 29th July and then 26th August 10am-1pm.
Com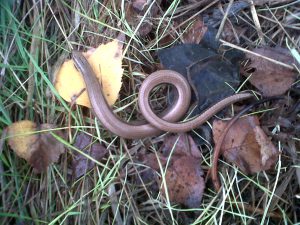 e and meet some of the inhabitants of the nature reserve. We have lots of slow worms as well as common lizards. There are plenty of slugs, snails and minibeasts under logs. The wildflower meadow is buzzing with bees and there are lots of butterflies.
Our address is East Ham Nature Reserve, Norman Road, London E6 6HN.
Sessions are free and run from 10am-1pm, with a break for free hot drinks and biscuits.
To find out more about what we are doing, check out our newsletter March 2017
If you would like to join our group, just turn up wearing suitable clothes and shoes (there are a lot of brambles and stinging nettles on the site). We provide gloves and tools.
Please note that, as all our tasks involve using sharp tools, we cannot take responsibility for under 16s. Children are welcome, but must be supervised at all times by a responsible adult.
For more information Contact: Judi  020 8470 7680 or Frances 078 4597 3156 or email newhamgg@gmail.com
If you would like to help us publicise the Nature Reserve please download the 'Nature Reserve needs you' poster here  Nature reserve needs you